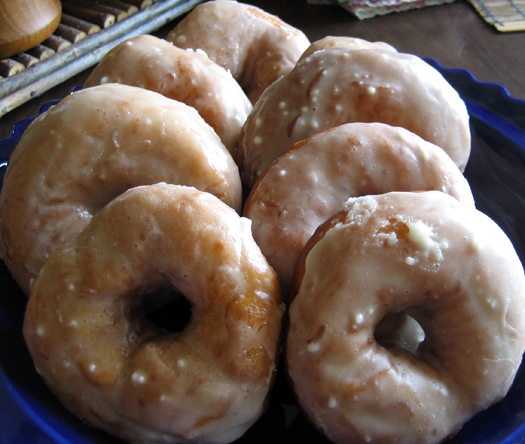 Here is the recipe I used for some delicious vegan doughnuts this week. It took some figuring out and a couple failed tests (oh! those poor lost doughnut souls) but finally I managed to get it right. Well, at least its right enough for now, until I get curious and tweak it some more. These aren't healthy low-fat doughnuts, they are delicious fried sugar coated packets of joy, so for those of you wanting an alternative to cake doughnuts here is my recipe for vegan yeast raised doughnuts.
Ingredients:
2 packages highly active yeast
1/2 cup + 1 tbsp sugar
1 cup warm water (around 105 degrees no hotter than 110)
4 1/2 and 2 tbsp cups flour (you'll need more for making the doughnuts themselves so have some on hand for dusting, etc.)
1/2 tsp salt
1 cup vanilla soy milk
3/4 banana mashed (whip it until it has an egg-like consistency)
1/4 cup margarine, melted (measure in a dry measure first then melt)
1 1/2 tsp vanilla
canola oil for frying (or oil that you normally use for frying)
In a glass bowl, a measuring cup worked well for me, mix 1 tbsp sugar and the warm water. Add the yeast to the water and let it do its thing for 10 minutes. This should give you time to prep the rest of the ingredients, if you are slow in baking prep hold off on this step until you get everything else ready.
Sift flour into a bowl and combine with salt, set it aside. In a separate mixing bowl (we use a stand mixer but it isn't necessary) combine the sugar, banana, margarin, and soy milk. Mix on medium speed until ingredients are well combined. You'll want to make sure that the temperature of the butter does not heat things up past 110 degrees. In order to prevent that I use cold soy milk from the fridge.
Add the yeast mixture to the wet ingredients mix on low until thoroughly mixed. Don't mix too much as the yeast doesn't like to be beat up (but then again who does). As I discovered, yeast is super finicky and caused me to waste lots of flour and other delicious ingredients in my testing. Add in the dry ingredients slowly mixing on low speeds, when you get to about 1/2 to 3/4 of the flour mixture you'll need to probably switch to a dough hook (if using a stand mixer), if not keep working the dough with a wooden spatula or whatever you are comfortable with. Add in remaining flour, this should create a super sticky dough so have lots of flour on hand so that you can handle it. You can actually add in more flour (up to a 1/2 cup or so) for a firmer dough which makes things easier to handle but I found the stickier the airier it was.
Put dough in a well oiled bowl. I rub canola oil on the bowl and dust with flour for good measure. Cover the bowl, set in a warm spot (like on top of the oven), and let the dough mixture rise for about 1 hour. It should be close to, if not, double the size when done rising at that time.
On a flour covered surface knead the dough/roll it out to about 1/2″ thick. Â Take 5″ Â to 6″ x 1″ strips (approximately) and roll them into balls. You can leave them like that, which is great for jelly filled doughnuts, or I poke a hole through the middle and shape into normal doughnuts. Place doughnuts on a baking sheet (again well oiled and dusted with flour), cover, and let rise for 20-30 minutes (or until double the size and light and fluffy). This should make around 20 or more regular size doughnuts. I also will roll up a few small 3/4″ balls for doughnut holes (which are great for testing the oil).
Heat oil over medium high heat. I use a shallow pan that I have set aside for frying things. You just need about 1 1/2″ deep oil at most. When the oil is hot fry the doughnuts up (you'll know its ready because the dough will sizzle and sit on top of the oil). It takes only a few minutes in the oil to fry. Once done set them aside to cool; when cooled off glaze/frost/fill to your liking .
For sugar glaze.
Heat up 3tbsp or so of soy milk add in about 1 1/4 cups powdered sugar. Mix well, and then dunk those bad boys in there.
For chocolate glaze (more ganache than glaze).
Bring 1 cup of soy milk to a slight boil. Remove from heat. Add in about 8 oz of vegan chocolate chips and mix until fully melted. Add in 3 tbsp of powdered sugar mix until combined, and dunk the doughnuts in.