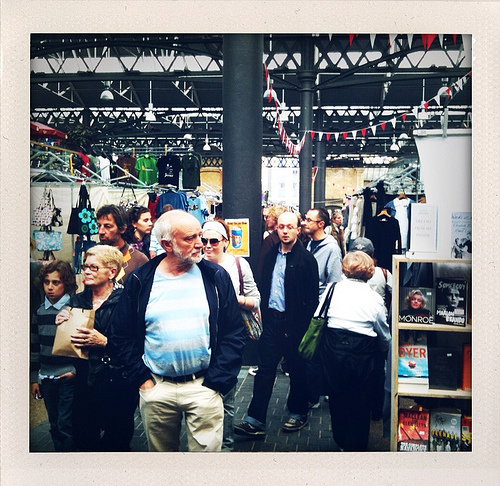 We got off to a slow start this morning after going to bed fairly late the night before (ended up staying up late watching more of Dead Set). Our original plan was to head to Borough Market, but alas it is closed on Sundays. So instead, we headed out to a very busy Spitalfields Market. Our late morning was filled with eating crepes, muffins, spinach rounds, and a variety of salads from a vendor called Rainforest Creations (Ryan would eat there about once a week when he lived in London, see below).
After Spitalfields we headed to the Covent Garden area and walked around doing some shopping (both window and actual purchasing). From there we headed closer to our hotel and went to the Tate Britain to see the Richard Long exhibition. We stayed there until close, walked back to our hotel, and sat a spell pondering what to eat for dinner.
Ultimately after being exhausted from walking all day we made a plan to head to a nearby Pizza Express to grab some dinner. On our way (practically 2 doors down from Pizza Express) we came across Pimlico Tandoori, the food was good, the place filled with lots of locals, and the service was excellence. We also saw this adorable pup waiting for its owner outside the restaurant.
It was a great trip, can't wait to come back again. Now it is time to pack and get to bed a bit early for an early trip to the airport and back home.