Thanksgiving is a day to give thanks, spend time with your family, friends, & loved ones, & to fill your bellies with lots of delicious eats of course! Every family has their own special Thanksgiving traditions & foods that they always include on the Thanksgiving table; here are some that Ryan & I include on our Thanksgiving table each year…
Grilled Turkey Tenderloins with Spice Rub
When it's dinner for two, you just don't need a whole turkey, & we eat little to no meat anyway so this has been a great option for us at Thanksgiving as several turkey tenderloins do the trick & save us from eating turkey for the next year; this is pretty simple & also takes WAY less time than cooking a whole turkey, so it definitely has it's advantages!

Ingredients:
Boneless Turkey Tenderloins, Extra Lean
Olive oil
Rudy's BBQ Turkey Spice Rub
Blackening Spice Rub (see recipe below)

Directions:
Coat turkey tenderloins lightly with olive oil. Rub turkey tenderloins with your spice rub of choice - homemade or store bought will both do the trick (we like Rudy's BBQ turkey spice rub – their BBQ sauce is excellent as well, I might add, & is also delicious on turkey!) & we usually also make a blackening spice rub; we make half the turkey with the Rudy's spice rub & use the blackening spice rub on the other half of the turkey. Grill these outside on your charcoal or gas grill or grill them inside in a griddle pan on your stove top.
Blackening Spices
Ingredients:
Dried Oregano
Coarse Ground Black Pepper
White Pepper
Cayenne (use lots of Cayenne to make it really spicy!)
Dried Thyme
Kosher Salt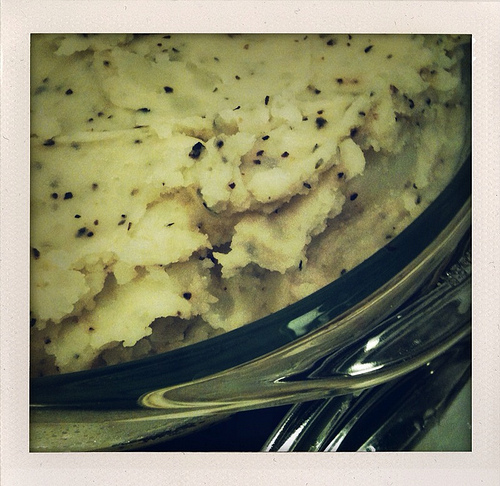 Mama Talbott's Mashed Potatoes
I LOVE my Mom's mashed potatoes (the basil & coarse ground black pepper really give these a nice twist) & my Thanksgiving plate usually consists of a HUGE pile of these with a teeny, tiny, miniscule sliver of turkey on the side – I'm really all about the potatoes, people!
Ingredients:
Russet Potatoes
Butter
Milk
Dried Basil
Coarse Ground Black Pepper
Kosher Salt
Directions:
Clean, peel, & chop LOTS of Russet Potatoes (we REALLY like our potatoes, so we always fill a large spaghetti pot with these!). Boil the potatoes in a large pot of water until they are tender & easy to pick apart with a fork. Drain the water out of the pot. Add a couple sticks of butter (more butter makes it better!), a splash or two of milk (as needed - this helps to make them nice & creamy too), & blend with a hand mixer until smooth. Add in a generous amount of kosher salt, coarse ground black pepper & dried basil flakes (add to taste, I like LOTS of salt, pepper, & basil in mine, but this isn't for everyone) & then mix again to incorporate.
Sauteed Green Beans with Tomatoes & Basil
This is a recipe I got off foodnetwork.com, by Giada de Laurentiis, & that we've enjoyed making for holidays; they're really fresh & delicious!
Homemade Cranberry Sauce with Orange Liquor
If you aren't a fan of cranberry sauce & you've never made it fresh, I urge you to give this a try; this will kick the stuff in the can's butt any day -Â enjoy!
Ingredients:
1 Bag Fresh Cranberries
1/4 Cup Water
3/4 Cup Fresh Orange Juice
1 Cup Sugar
Zest of 1 Orange
Dash of Cinnamon
Splash of Orange Liquor (i.e. Cointreau, Grand Marnier, or Triple Sec)
Directions:
Rinse 1 bag of fresh cranberries well. Add water, fresh orange juice, & sugar to a sauce pan & bring to a boil. Add cranberries to the pot & bring back to a boil. Add orange zest & cinnamon. Stir & then simmer until most of the cranberries have popped. Add a splash of orange liquor, stir, & let simmer for about a minute more. Transfer to a serving dish & let cool in the fridge before serving. Garnish with a twist of orange peel on top.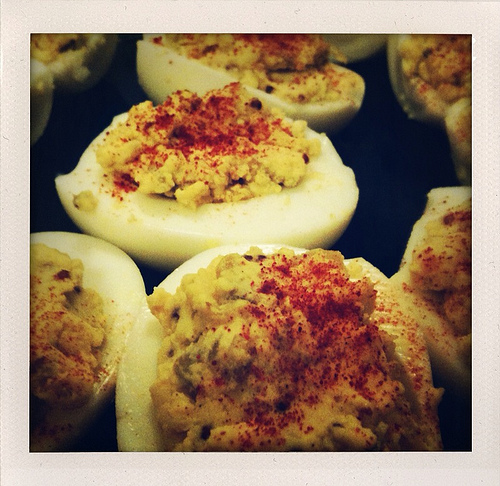 Deviled Eggs – We Don't Need No Stinking Mayo!
I HATE mayo & sour cream & I do my best to steer clear of these at all costs; so I've adapted & have a special place for these delicious, mustardy Deviled Eggs in my heart – I hope you like them as much as I do!
Ingredients:
Eggs
Dill Pickle Relish
Yellow Mustard
Stone Ground or Spicy Brown Mustard
Paprika
Salt
Directions:
Boil as many eggs as you'd like to serve in a pan of water; I add them to a pan of cold water, then bring to a boil & let boil for about 10 minutes – keep in mind that 1 egg = 2 Deviled Egg halves. Drain the boiling water & cover them with cold water to help speed up the cooling process. As soon as you're able to, while they're still hot/warm is best (doing this while they're still warm will make it easier to remove the shells, believe me!), crack the eggs & remove the shells. Slice the eggs in half, length wise, & scoop out the cooked yolks, setting them aside in a separate bowl, & place the halved egg whites facing up on a plate or serving platter. Using a fork, mash all the cooked yolks up. Quantities of mustard & relish to add will vary, based on how much cooked egg yolk you have to work with of course, but you'll then add a combination of yellow mustard, spicy mustard, & dill pickle relish to the cooked yolks & mix all together well. Scoop the yolk, mustard, & relish mixture into the cooked egg white halves & top with a sprinkle of paprika. Salt & pepper to taste.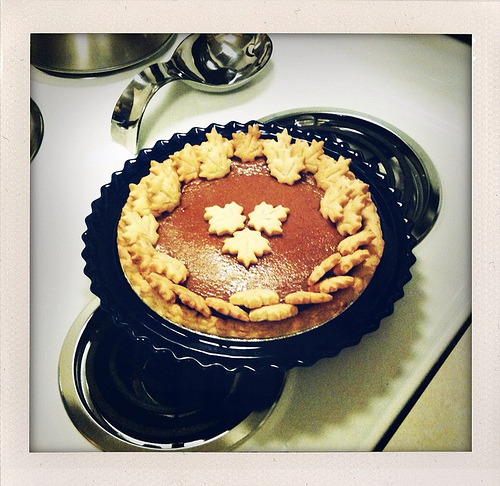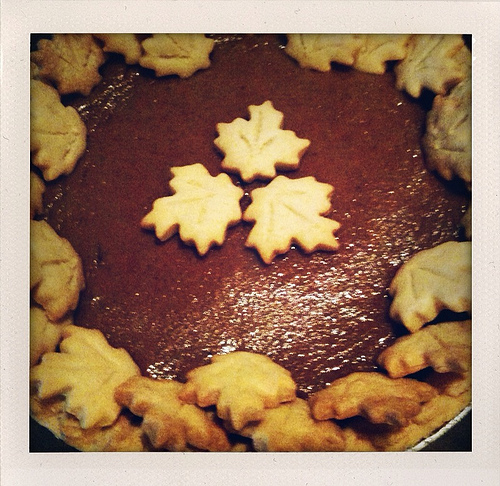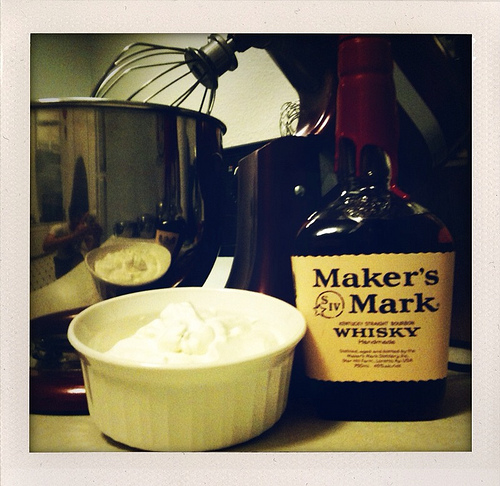 Pumpkin Pie with Bourbon Whipped Cream
This is a recipe I found online & we're making for our Thanksgiving Feast this year – yum!
Our Thanksgiving feast will also include lots of rolls. Happy eating!